Our language and translation agency in Alicante, one of the most important cities on the east coast of Spain.
We offer an array of services in Spanish and other languages including:
More than 100 languages 
If you need a translation from English to Spanish, French or any other language, Optilingua offers its proven high-quality services in over 100 languages and dialects, including:
Albanian
Arabic
Bulgarian
Catalan
Chinese
Croatian
Czech
Danish
Dutch
English (UK)
English (US)
Estonian
Finnish
Flemish
French
German
Greek
Hungarian
Icelandic
Indian languages
Italian
Japanese
Korean
Latvian
Lithuanian
Norwegian
Polish
Portuguese (Portugal)
Portuguese (Brazil)
Romanian
Russian
Serbian
Slovak
Slovenian
Spanish
Swedish
Thai
Turkish
Ukrainian
Vietnamese
...
To receive your quote within a few hours, please fill out the form below.
Alphatrad Spain
Muelle de Poniente, s/n
(Antigua Casa del Mar)
E-03001 Alicante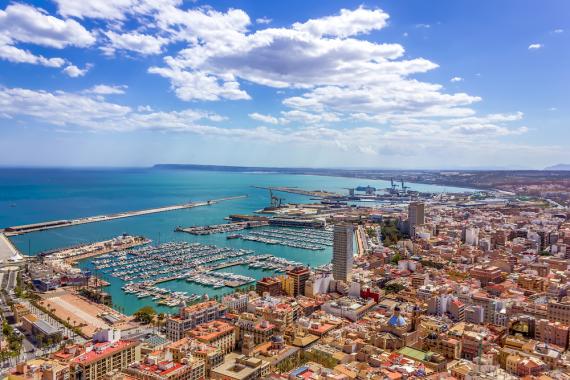 About Alicante
Alicante (Alacant), the capital of the province of the same name, one of the three that makes up the Valencian Community, is a port city situated on the Mediterranean coast. Its population of 334,757 inhabitants (2009) make it the second city in the Valencian Community and the eleventh in Spain. It forms a conurbation of 452,462 inhabitants including many of the towns and cities of the district of Campo de Alicante: San Vicente del Raspeig, San Juan de Alicante, Muchamiel and Campello. Statistically speaking, it is also associated with the Metropolitan area of Alicante-Elche which has 757,443 inhabitants. It is an eminently tourist- and services-driven city.
The city is situated on the Banks of the Mediterranean on a plane interspersed by a series of hills and elevations. Mount Benacantil, which is 169 m high, on which the Santa Bárbara Castle is located, dominates the urban façade and constitutes the most characteristic image of the city. Here we will also find Tossal where the San Fernando castle is to be found, the mountain range of San Julián or Serra Grossa, the hillocks of Garbinet and Tossal de Manises.
The economy of the city of Alicante is mainly based on the services' sector, and tourism has performed an important role in the city's development.
Amongst the economic activities performed in Alicante, trade is a prominent area, historically supported by the port. The commercial activities of the city have a great pulling power in the majority of the province and this stretches from the axis of Vinalopó to Almansa. At present, the city of Alicante is the fifth most important city nationally in terms of trade, only surpassed by the cities of Madrid, Barcelona, Valencia and Seville.
Tourism, already a feature back in the mid-19th century, but chiefly developed since the 1950s, is also another important activity in the city, backed up by its mild climate, its beaches, the historic heritage (Santa Bárbara Castle, the Santa María church, Co-cathedral of San Nicolás, the Old Town, Torres de la Huerta etc.) and its range of leisure activities.