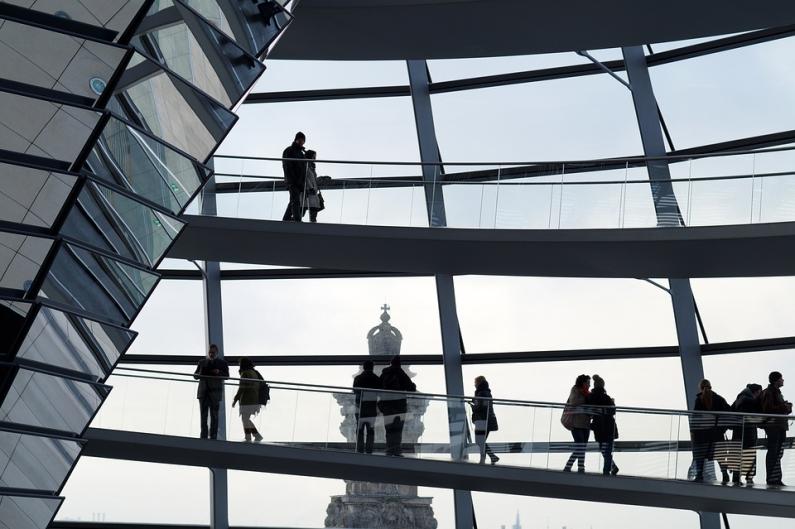 Germany is an export country. This is nothing new. In 2017, other countries purchased German goods to the value of 1.3 trillion euro. But what exactly do German companies sell so successfully? In what ways? And to whom?
Trading partners
Germany's most important trading partners are the USA, France, and China, followed by other European neighbouring countries. Overall, the German economy does almost 60% of its trade with the ten most important trading partners.
USA 111.53
France 105.21
China 86.19
Netherlands 85.89
United Kingdom 84.36
Italy 65.56
Austria 62.56
Poland 59.54
Switzerland 54.01
Belgium 44.27
Exports in € billions
Source: Federal Statistical Office, 2018
Just a hop over the border
Sixty-eight per cent of all German exports remain within Europe. However, the proportion destined for Asia and America is growing.
Europe 68%
Asia 17%
America 13%
Africa 2%
Australia and Oceania 1%
Source: Federal Statistical Office
Cars for the world
One out of every three German cars goes to China. Motor vehicles and car parts are the undisputed number one leading exports. However, medicines and food products (more than 800,000 tonnes of chocolate per annum, for example), enjoy abundant foreign demand.
Cars and car parts 234.4
Machines 183.6
Chemical products 114.7
Data processing equipment, electronics, and optical products 110.5
Electrical equipment 83.0
Pharmaceutical and similar products 75.9
In € billion                             
Source: Federal Statistical Office, 2018
Many companies, small sums
More than two-thirds of German exporters are small and medium-sized enterprises (SMEs), although their export performance as a total is comparatively low.
Twelve cars per minute
To illustrate the sheer number of exported goods, a look at a short time frame is helpful. Every minute, German industry exports:
12 cars
360 engines
840 toothbrushes
2,800 contact lenses
8,700 bottles of beer
308, 700 screws
Source: Kyto GmbH
Volume on the street, high value in the air
More than the half of the goods (55.2%) are transported by road to the respective destination countries, followed by container ship at 19.5%. Heavy goods or raw materials are frequently transported by pipeline (7.4%), rail (6.5%) or inland waterways (5.8%). Valuable goods are generally transported by plane.