Traducta Milan specialises in translations, interpreting and proofreading services, multilingual transcriptions, voice-over services and subtitling. The company belongs to the Optilingua International Group, which has subsidiaries in 12 European countries, and has over 40 years' experience in translation and linguistic services.
Our committed translation network is the only one of its kind in Europe and it caters to 35,000 customers worldwide. The group has global links with 3,500 professional translators specialising in numerous areas of business, and working in the countries in which the relevant languages are specifically spoken. We also provide services in more than a hundred languages in Europe, North and South America, the Middle East and Asia, with local translation rates allowing us to offer the most cost-effective service around.
About Milan - "The economic capital of Italy"
Founded by the Celts and subsequently occupied by the Romans, who named it "Mediolanum", the city was the capital and seat of the Empire. This was partly due to its favourable geographical location, as a bridge for trade between the Italian peninsula and continental Europe.
A political and cultural hub during the Italian Renaissance, and capital of the Kingdom of Italy, Milan began to function as the capital city of the Italian economy and culture. In fact, during the second half of the nineteenth century, it formed the "industrial triangle" along with Turin and Genoa, boosting urbanisation and becoming a destination for internal emigration.
Milan currently plays a very important role in Italian productivity, not only as a major financial market, home to the headquarters of the Stock Exchange on "Piazza Affari", but also as a world capital of fashion, along with London, Paris, and New York. It is home to numerous Italian and foreign high-end fashion designers and brands, generating almost 9% of national GDP by exports, as well as hosting many events, fashion schools, and shows. Many of the prestigious shops are concentrated in the "Quadrilatero della moda" fashion district, where you'll find many world-famous shopping streets, including Via Monte Napoleone, Via Manzoni, Via della Spiga, and Corso Venezia.
Milan is the capital of private and commercial radio in Italy (Radio 105, Radio 24, Radio Deejay, Virgin Radio, RTL etc.) and of publishing (Arnoldo Mondadori, Feltrinelli, Garzanti, Hoepli, Rcs, Giuffrè...). It is also the heartland of the press, with national newspapers and periodicals based there (such as Corriere della Sera, Il Sole 24 Ore, La Gazzetta dello Sport...), and a hub of culture and entertainment (Teatro alla Scala, Teatro degli Arcimboldi, Piccolo Teatro di Milano). On top of that, it is home to the headquarters of major Italian banks (Unicredit, Mediobanca, and BPM) and international offices and branches of IT and technology companies (Banzai, Google, Yahoo, Virgilio...).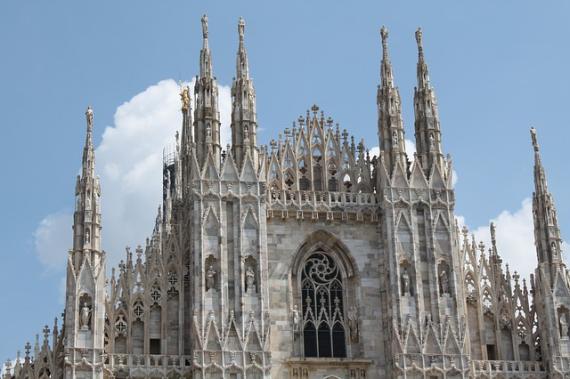 Via Conservatorio 22
20122 Milano
Professional Translation Services
and receive an answer within 24-48 hours
Choose the service you require
Get a quote
Confirm and receive your order