ViaVerbia Amsterdam specialises in translations, interpreting and proofreading services, multilingual transcriptions, voice-over services and subtitling. The company belongs to the Optilingua International Group, which has subsidiaries in 12 European countries, and has over 40 years' experience in translation and linguistic services.
Our committed translation network is the only one of its kind in Europe and it caters to 35,000 customers worldwide. The group has global links with 3,500 professional translators specialising in numerous areas of business, and working in the countries in which the relevant languages are specifically spoken. We also provide services in more than a hundred languages in Europe, North and South America, the Middle East and Asia, with local translation rates allowing us to offer the most cost-effective service around.
Information worth knowing about Amsterdam (The Netherlands)
Modern lifestyles and traditionally preserved buildings -   It is apparent why Amsterdam is a favourite holiday destination thanks to this mix. The city, which was built on tens of thousands of timber piles, invites you with its distinctive charm to discover your surroundings. It is also because of the friendly and open nature of the Dutch that the place is an optimal destination for a city excursion. Besides many historical buildings, Amsterdam is well known for its unique museums, galleries and theatres. A cosy canal ride is highly recommended when exploring the city, where you can enjoy optimal views from the water. 
Business etiquette
Business hours are Mon-Fri 09.00-17.00 hrs. The Dutch are proud of their efficient time management; punctuality is therefore of the upmost importance. Dutch business partners should be addressed by their full name and title; addressing by the first name is not customary except if the business partner is much younger or requests this explicitly. 

Most Dutch executives speak English and German; so it is not essential to translate business cards into Dutch. Promotional material, operating instructions and manuals should however be translated into Dutch. It is recommendable to mention the year of foundation of the company (if it can show a long tradition) and academic titles on any business cards, since the Dutch respect history and education. 
It is appropriate to wear a suit for business meetings; smart-casual clothes are worn on social occasions. Business lunches and meetings in the evening are rare. If you are invited to the home of a business partner, you should bring a bouquet of flowers for the hostess.  If you receive a present, it is customary to unwrap it immediately.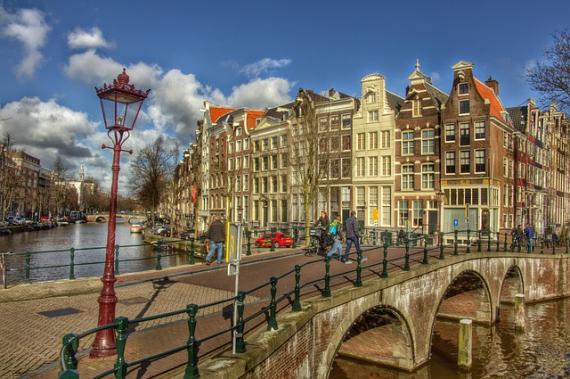 ViaVerbia Amsterdam
Hogehilweg 16
NL-1101 CD AMSTERDAM
Professional Translation Services
To receive your quote within a few hours, please fill out the form below.
Our quotes are free of charge and demonstrate the quality and flexibility of our service.