Alphatrad Augsburg specialises in translations, interpreting and proofreading services, multilingual transcriptions, voice-over services and subtitling. The company belongs to the Optilingua International Group, which has subsidiaries in 12 European countries, and has over 40 years' experience in translation and linguistic services.
Our committed translation network is the only one of its kind in Europe and it caters to 35,000 customers worldwide. The group has global links with 3,500 professional translators specialising in numerous areas of business, and working in the countries in which the relevant languages are specifically spoken. We also provide services in more than a hundred languages in Europe, North and South America, the Middle East and Asia, with local translation rates allowing us to offer the most cost-effective service around.
Interesting facts about the city of Augsburg
The city of Augsburg is the third largest city in Bavaria, after Munich and Nuremberg. The metropolitan area has a population of 830,000 and its economy is prospering. The city is one of the most important industrial locations in southern Germany.
At one time, Augsburg held the title: "world capital of the textile industry", but the city's industrial emphasis has changed and nowadays, Augsburg is characterised by such industrial companies as MAN, Osram, and Fujitsu.
Augsburg is also home to historical attractions such as the Fuggerei and the Town Hall (Rathaus), and Augsburg is also well known in Germany and abroad, for its famous "Augsburger Puppenkiste" (marionette theatre).
Augsburg's international importance was established in 1956, when the first city twinning project with Inverness (Scotland) was completed. Subsequently, this has expanded to include Nagahama (Japan), Dayton (USA), Bourges (France), Liberec (Czech Republic), and Jinan (China).
It is also worth mentioning that Augsburg is the only German town to have its own public holiday, the "Augsburger Hohe Friedensfest" (high peace festival), which is celebrated every year on August 8th.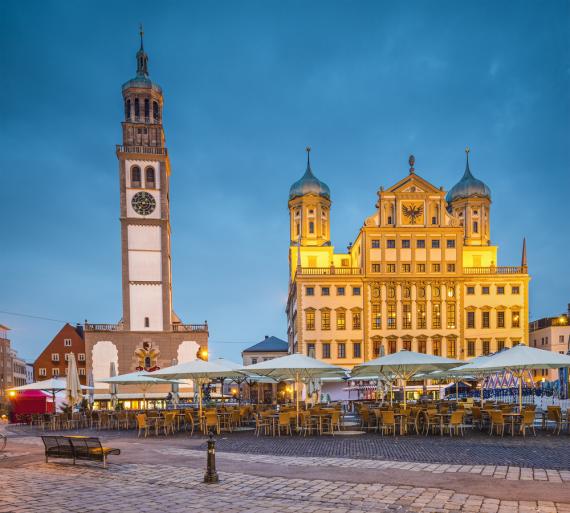 Alphatrad Augsburg
Viktoriastraße 3B
2. OG / 2nd floor
(Rückgebäude, Eingang am Gleis 1 Nord)
86150 Augsburg
Professional Translation Services
and receive an answer within 24-48 hours
Choose the service you require
Get a quote
Confirm and receive your order