Alphatrad Regensburg specialises in translations, interpreting and proofreading services, multilingual transcriptions, voice-over services and subtitling. The company belongs to the Optilingua International Group, which has subsidiaries in 12 European countries, and has over 40 years' experience in translation and linguistic services.
Our committed translation network is the only one of its kind in Europe and it caters to 35,000 customers worldwide. The group has global links with 3,500 professional translators specialising in numerous areas of business, and working in the countries in which the relevant languages are specifically spoken. We also provide services in more than a hundred languages in Europe, North and South America, the Middle East and Asia, with local translation rates allowing us to offer the most cost-effective service around.
Interesting facts about the city of Regensburg
Regensburg is one of the oldest and historically most impressive cities in Germany and is the capital of the Upper Palatinate.
The manufacturing sector particularly automotive and mechanical engineering, electrical engineering and microelectronics is especially well established in the city. Some of the city's best-known companies today include BMW, Continental Automotive, and BSH Bosch.
Innovative technology industries have gained a special importance in Regensburg; Institutions such as the Regensburg Business Park, the IT storage start-up centre or the BioPark with over 30 biotech companies are part of the future-oriented restructuring of the city. Regensburg companies consequently are heavily involved in the import/export sector and some companies export up to 80% of their goods. Its inclusion in international markets has created expansive and powerful economic potential in Regensburg and in the whole region.
There are around 138,000 people living in Regensburg. The Bishop's seat of the local diocese and three universities with their respective educational institutions have shaped the townscape, and the many students living in the city also contribute to the pleasant atmosphere.  
In 1997, Regensburg was awarded the Europa Prize; this award highlights the immense efforts made with regard to the concept of European integration. In the historic old town, the buildings from the middle ages have been largely preserved; and it is the largest and the most striking of its kind in Germany. In 2006, the old buildings along with the Stadtamtshof were recognised by UNESCO as a world heritage site.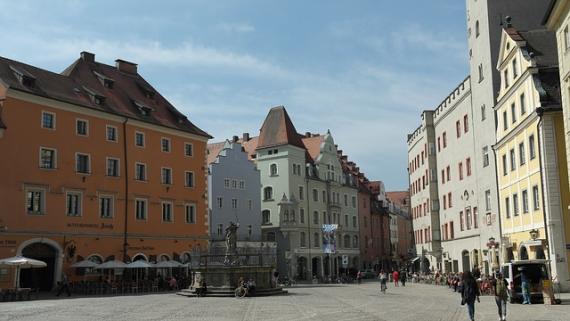 Alphatrad Regensburg
Im Gewerbepark C 25, 2. OG
93059 Regensburg
Professional Translation Services
and receive an answer within 24-48 hours
Choose the service you require
Get a quote
Confirm and receive your order