ViaVerbia Rotterdam specialises in translations, interpreting and proofreading services, multilingual transcriptions, voice-over services and subtitling. The company belongs to the Optilingua International Group, which has subsidiaries in 12 European countries, and has over 40 years' experience in translation and linguistic services.
Our committed translation network is the only one of its kind in Europe and it caters to 35,000 customers worldwide. The group has global links with 3,500 professional translators specialising in numerous areas of business, and working in the countries in which the relevant languages are specifically spoken. We also provide services in more than a hundred languages in Europe, North and South America, the Middle East and Asia, with local translation rates allowing us to offer the most cost-effective service around.
The international function of the Port of Rotterdam
The Port of Rotterdam is located at the mouth of the Rhine and the Meuse, and the Rhine in particular is very important to the port, as it reaches deep into the hinterland and connects it to the large and populous economic regions of Europe.
Rotterdam is one of the largest ports in the world and also the largest port in Europe. The port gained importance as the "gateway to Europe" through the densely populated regions with their high purchasing power potential in its hinterland.
Primarily, the main function of the Port of Rotterdam was the shipment of bulk goods, especially mineral oil and ores, however today the shipment of these goods is declining due to the saturation of bulk goods in the Western European market, and instead there has been an increase in container handling.
In its secondary function as an industrial port, there are many refineries, chemical factories and warehouses located in the port and foreign companies such as ExxonMobil, Shell, BP and Kuwait Petroleum (refineries) and the chemical companies AkzoNobel, Alcoa, Lyondell Bayer and Kemira have settled here.
The Port of Rotterdam is therefore very important for the Dutch economy. Through the industrialisation of the port region and the increased handling of container ships, the economy has been boosted and jobs created. In the Rotterdam-Rijnmond region, 90,000 jobs are directly linked to the port, while another 57,000 jobs are indirectly dependent on the port.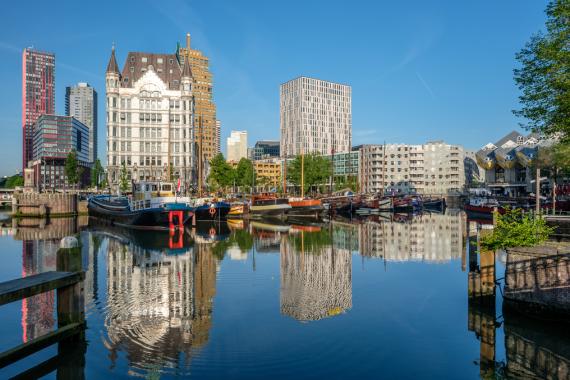 Contact our professionals by email at rotterdam@viaverbia.nl, where you can request a free, no-obligation quotation.
ViaVerbia Rotterdam
Weena 290
NL-3012 NJ ROTTERDAM
Professional Translation Services
and receive an answer within 24-48 hours
Choose the service you require
Get a quote
Confirm and receive your order