Alphatrad A Coruña specialises in proofreading, interpreting and translation services, multilingual transcriptions, voice-over services and subtitling. The company belongs to the Optilingua International Group, which has subsidiaries in 12 European countries, and has over 40 years' experience in translation and linguistic services.
Our committed translation network is the only one of its kind in Europe and it caters to 35,000 customers worldwide. The group has global links with 3,500 professional translators specialising in numerous areas of business, and working in the countries in which the relevant languages are specifically spoken. We also provide services in more than a hundred languages in Europe, North and South America, the Middle East and Asia, with local translation rates allowing us to offer the most cost-effective service around.
About A Coruña
The official languages of A Coruña are Galician and Castilian Spanish. Its official name is A Coruña, but its former name is still used a lot, La Coruña. It has a population of around 250,000 inhabitants (2011).
A Coruña has a mild, typically Atlantic climate, very humid with abundant rainfall. Its summers are cool and its winters mild. Its mean annual temperature is 13.9º and mean annual humidity is 70%. Its landscape is green and luxuriant with a large number of woods and cattle grazing on its meadows.
A Coruña is a province packed with ancestral traditions, but open to the new architectural, musical and artistic trends etc. There have been important testimonies of avant-garde art since the 1970s.
A Coruña is endowed with a great wealth of landscape giving you the chance to travel around and get to know the province, its monuments, its gastronomy, to play all kinds of sports (adventure sports, a huge range of water sports and sailing, fishing, golf courses, hiking...). It has a wide range of rural tourism options to choose from.
A Coruña's economy is characterised by the fishing sector (it has excellent fish and seafood), textile industry, livestock (its veal is renowned) and all the milk derivatives (cheeses, milk, butter, yoghurts…) and its full-bodied white wine. Everybody knows that Galician fashion is state-of-the-art worldwide.
It is a city which is well-connected by land, sea and air. By road: with Lugo on the A-9; A-6 with Madrid; AP-9 with Ferrol, Santiago, Pontevedra and Vigo. By train: with FEVE (narrow-gauge train) it is connected with the whole province and the whole north of the Peninsula as far as the Basque Country and also by bus. There is also a good connection between Santiago de Compostela and France. RENFE has 2 lines leaving La Coruña: One goes to León via Monforte de Lemos and the other to Zamora. It also has 2 airports: Lavacolla in Santiago de Compostela and Alvedro in La Coruña.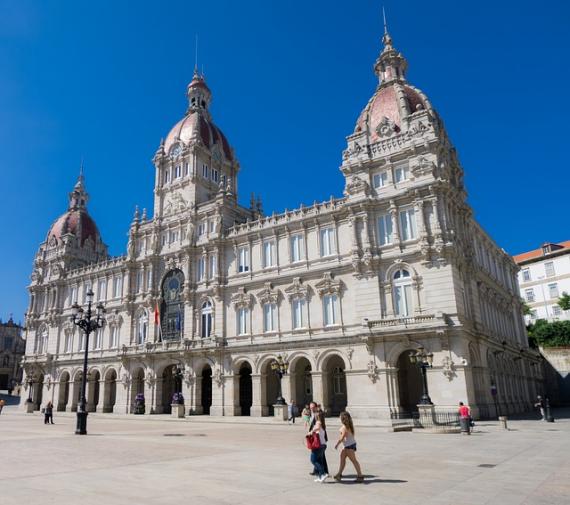 C/ Benito Blanco Rajoy, 7 - 1°
E-15006 A Coruña
Professional Translation Services
and receive an answer within 24-48 hours
Choose the service you require
Get a quote
Confirm and receive your order