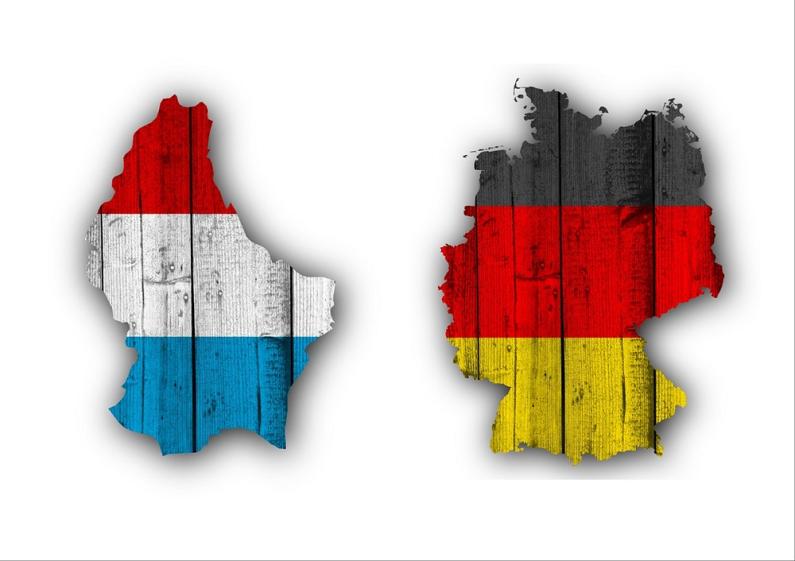 Business News
Luxembourg borders Germany in the north-west and it's a small rather rural country of just under 2,600 square kilometres. The majority of the border between Germany and Luxembourg runs along three rivers – the Our, Sauer and Moselle and is 137 kilometres long. The border extends about seven kilometres east of the river system at the small town of Vianden.
But what are the similarities or differences between the two neighbouring countries?
Differences between the national languages German and Luxembourgish
The language of Luxembourgish is close to Dutch and it was declared the country's national language in 1984. UNESCO now considers Luxembourgish to be an endangered language, as it is constantly competing with French, German and even English in the country's multilingual environment. In everyday life, however, the language is becoming increasingly popular and a good seventy-seven per cent of Luxembourg's inhabitants now speak it privately. Words like cinema (Kino), airport (Flughafen) or restaurant (Restaurant) sound exactly the same in Luxembourgish as they do in German. Thank you, however, is said in French ("Merci") and there are many other terms that have been taken directly from French.
Luxembourgers are rich and they are happy to show it off
Luxembourg tops the list of the richest countries in terms of gross domestic product (GDP). The high standard of living enjoyed by Luxembourgers is no secret worldwide and they are happy to openly show off what they have. There is no great diversity in incomes in this small country.
In Germany, the higher earning population is drawn to the city, but in Luxembourg, people prefer to live in the countryside. The linguistic diversity of the Luxembourgers is also reflected in their wide ranging culture even within such a small area. In Germany, the emphasis is on German-language classics.
Different sectors use different languages
For some years now, anyone making enquiries to the authorities in Luxembourg will be addressed in their own language, if possible, and foreigners can ask directly on the telephone whether they can talk in French, German or English if they do not understand Luxembourgish. While people in the financial sector in Luxembourg speak more English or German, the gastronomy sector increasingly uses French. Unlike in Germany, the language or dialect does not change from region to region.
Luxembourgers are modern – Germans love tradition
In many areas, Germany relies on tradition and the old ways. Standard German is increasingly dominating the everyday life of Germans, and the various regional dialects are often keenly cultivated. The historically rich culture in Germany varies from region to region.
Most Luxembourgers, on the other hand, speak French or German in their everyday working lives and use their own language, Luxembourgish, very actively in their private lives. Only about 30 per cent of Luxembourg's city residents were born in the Grand Duchy and many businesses have set up shop there. This has created a colourful hustle and bustle in the city during the day, although it tends to be quiet in the evening. In Germany, the city centres tend to be lively both during the day and into the evening. The majority of the inhabitants of Luxembourg's capital are immigrants from more than a hundred countries and many true Luxembourgers stay away from the city in the evening.
There are stumbling blocks for both countries when doing business
Many companies relocate to Luxembourg, and not only for tax reasons. The entrepreneurial flair of the small capital offers a pleasant environment for business of all kinds. Moreover, Luxembourgers are never averse to small talk and like to move business meetings to a restaurant or café. This takes some getting used to for German business people, as they believe in the saying that "time is money". Luxembourgers, on the other hand, cultivate closer contacts with business partners and want to get to know them first before deciding whether or not to do business with them.
and receive an answer within 24-48 hours
Choose the service you require
Get a quote
Confirm and receive your order
FAQ about differences between Germany and Luxembourg
Luxembourg has a constitutional monarchy, whereas in Germany there is a federal, parliamentary republic.
In Luxembourg, if a public holiday falls on someone's day off, the person is given an extra day of leave to compensate. There are no such regulations in Germany.