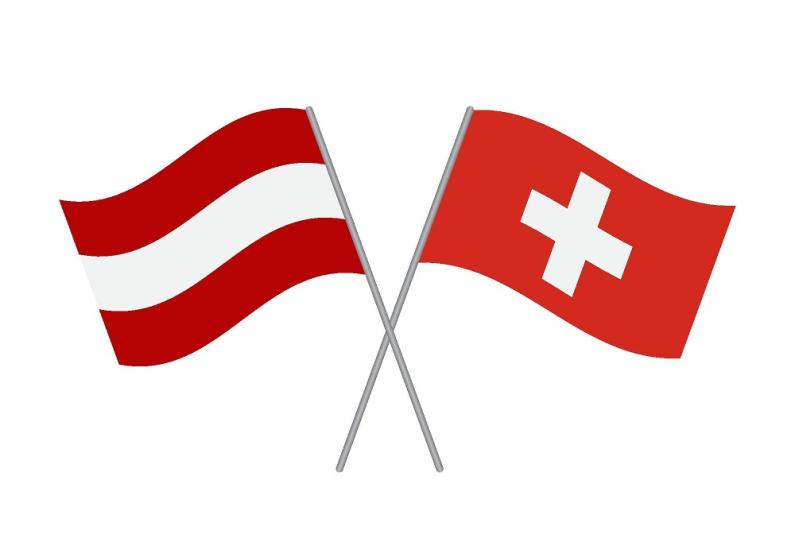 Business News
At first glance, there are more similarities than differences between Austria and Switzerland. Both countries are located in the heart of Europe, are known for their mountain landscapes and are comparatively small. Both countries are popular skiing and holiday regions and the quality of life is also very similar. Nevertheless, there are many differences between the two and the most obvious one is the language.
Schwyzerdütsch and Viennese cannot be compared
In Austria, people speak standard German and of course different dialects depending on the region. The Viennese dialect is used in film and television and is often seen as the Austrian dialect par excellence. However, this dialect is not spoken in all of Austria and regional dialects sound completely different just a few kilometres outside of Vienna.
In Switzerland, language plays a completely different role, as the country is divided into four regions. In addition to German, French, Italian and Romansh are also official languages in the respective regions. Swiss German (Schwyzerdütsch) is often seen as a dialect, but it is more a collective term for various dialects and regional dialects. The linguistic diversity that results from this is also noticeable in everyday life. Vocabulary from three different countries makes up part of the vocabulary in the various Swiss dialects, which is more uniform in Austria.
Linguistic diversity also brings diversity in cuisine
Gourmets love the Swiss cuisine because of its diversity – French, Italian and German influences provide almost endless possibilities. The Swiss are therefore a little more experimental when it comes to food.
In Austria, people tend to prefer classic cuisine, but, some Austrian cuisine is popular far beyond the country's borders. For example, Kaiserschmarrn, Wiener Schnitzel, and Sachertorte are culinary gems that are enjoyed all over the world.
Swiss Birchermüsli, fondue dishes, and raclette are Swiss specialities that are popular everywhere.
The most liveable city
Every year, the Mercer study ranks the 10 most liveable cities in the world and Vienna has topped this list for several years. However, the Swiss cities of Basel, Geneva and Zurich have also made the top 10 three times.
The criteria used to choose the cities includes political stability, economy, healthcare, crime rate and leisure activities. When it comes to cultural offerings Vienna is unbeatable, because visits to theatres etc., are so affordable. Zurich, on the other hand, is considered one of the most expensive cities in the world, but incomes are also higher in Switzerland than they are in Austria.
Classical and country music meet each other
Mozart, Beethoven and Johann Strauss are just a few famous musicians associated with Austria. Classical music is still popular across the country today.
In Switzerland, on the other hand, people tend to love folk music. Instruments such as the alphorn or the Schwyz organ provide the very special sound that is associated with "Ländlermusik". Ländlermusik can be divided into many subcategories similar to folk music. Regional artists in Switzerland are renowned in their own country, but are less well known beyond the country's borders. 
Opinions differ on punctuality
The expression "academic quarter hour" is very well known in Austria. It is a term that is meant mockingly when someone is late for an appointment. Slight delays are completely normal here and, are expected particularly with regards to social engagements.
In Switzerland, on the other hand, great value is placed on punctuality and attention to detail.  If someone is late for a meeting, it can easily lead to the failure of a business deal as the Swiss are not happy with someone being late.
FAQ on cultural differences between Switzerland and Austria
The Swiss want to remain politically neutral and don't want to participate in armed conflicts between states. For this reason, the country has decided not to join the EU. However, there are of course treaties between Switzerland and the EU, which are highly valued by both sides.
If you measure success in skiing by the Nations Cup, the Austrians are clearly more successful with 27 victories since 1990. The Swiss have only won it eight times. Nevertheless, sports fans in both countries love their skiing stars and cheer them on every year.
The Swiss are often said to be more reserved than Austrians, who tend to be more open and quick to address strangers as well. Swiss German is spoken a little more slowly than most dialects in Austria. However, both nations are equally friendly and politeness is as much a part of everyday life for the Swiss as it is for Austrians.