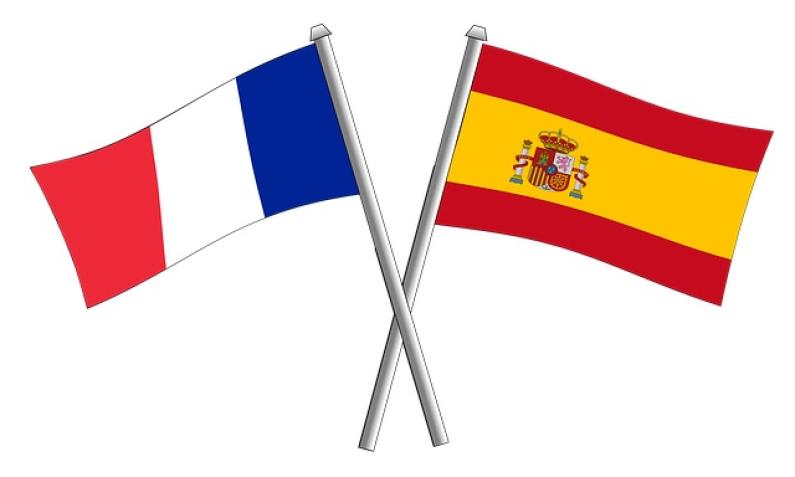 Business News
Although Spain and France are neighbouring countries and are only separated by the Pyrenees mountain range, there are important cultural differences between them. You only need to cross the border to see how the language changes, and to see the differences in the cuisine, the culture, and the customs of the people.
The following are the most striking cultural differences between Spain and France.  
1. The characters of the French are different to the Spanish
It is well known that Spaniards are, for the most part, open, cheerful and extroverted. They express themselves with ease and enthusiasm and, in addition, they tend to put passion into everything they do. They are not at all reserved, which is why it doesn't take them long to make new friends.
The French, on the other hand, are somewhat more reserved, discreet and extremely polite and it is often difficult to gain their trust at first. However, once the barriers have been broken down, they are very loyal people who can be trusted.
2. Terraces are different in France compared to Spain
Going out on the terraces in France means sitting side by side with someone at a small table in a nice café; facing the street and observing what is going on.
In Spain, terraces are dynamic, noisy and busy spaces, which are full of life. The large tables take up all the space and if you are in a large group, several tables are put together to accommodate all the diners. Everyone sits around them to chat in a relaxed way.
3. The French don't say "chin-chin" or "cheers"!
Speaking of terraces... another cultural difference between Spain and France is the way people toast each other. Spaniards like to shout "chin-chin" or "salud", whilst they all clink glasses together. Or they say "arriba, abajo, al centro y adentro" (up, down, in the middle and inside).
The French, on the other hand, toast each other one by one, without crossing glasses, and they look each other in the eye while saying "santé". It may not seem very spontaneous, but it is a very common custom. So ... raise your glasses and make a toast!
4. In France everyone is addressed formally as "vous" (formal you)
As we mentioned at the beginning of this article, the French are more reserved in the way they speak. It is very common for them to address everyone as "vous" (which is the formal you) – even the doorman of the building you see every day and have known for ten years. Why? The reason for this is because the doorman is not a friend, a family member or even a work colleague. Therefore, he is addressed formally.
In Spain, on the other hand, this more formal form tends to be used with older people and in very specific circumstances. In general, people move quickly from "usted" (formal you) to "tú" (informal you).
5. The French only have one surname
Another custom in France is that everyone only has one surname, which is usually the father's. In Spain, everyone has two, made up of the father's name first and followed by the mother's.
It is also very common for French women to adopt their husband's surname when they marry. In Spain, it is not so common for women to change their surname when they get married.
6. No intensive working hours on Fridays in France
In Spain, where it is possible and depending on the sector, it is very common for people to start working a little earlier on Fridays so they can leave at around 3:00 pm. In France, on the other hand, people generally work their usual hours on Fridays and do not have the afternoon off.
7. Deserts in Spain are sweet
It is usually the custom in Spain to have sweet desserts such as cake, ice cream, custard, tiramisu... there are a wide range of options. In France, it is customary to have a large and extensive cheese platter after the main meal.
8. In France you can go faster on the motorway
When you cross the border from France into Spain, you need to remember that the maximum speed limit on motorways is 120 km/h (in France it is 130 km/h). In other words, you can go a little faster in France than in Spain.
9. The Spanish keep different times
The Spanish keep different times to the rest of Europe. For example Spaniards have aperitifs at lunchtime in France. And when the French are having their dinner, around 7 pm, Spaniards are often not even home from work.
and receive an answer within 24-48 hours
Choose the service you require
Get a quote
Confirm and receive your order
Questions on cultural differences between Spain and France
The main cultural difference between Spain and France is probably the character of the countries' inhabitants. Spaniards are generally more spontaneous and friendly. The French, especially at the beginning, tend to be more serious and cautious. This is reflected, for example, in their frequent use of the form "vous" (formal you) to address almost everyone.
The proximity between the two countries means that there are more than 108,200 French people living in Spain.
France is the country with the second highest number of Spanish expatriates. In total, there are an estimated 253,000 Spaniards living in France.