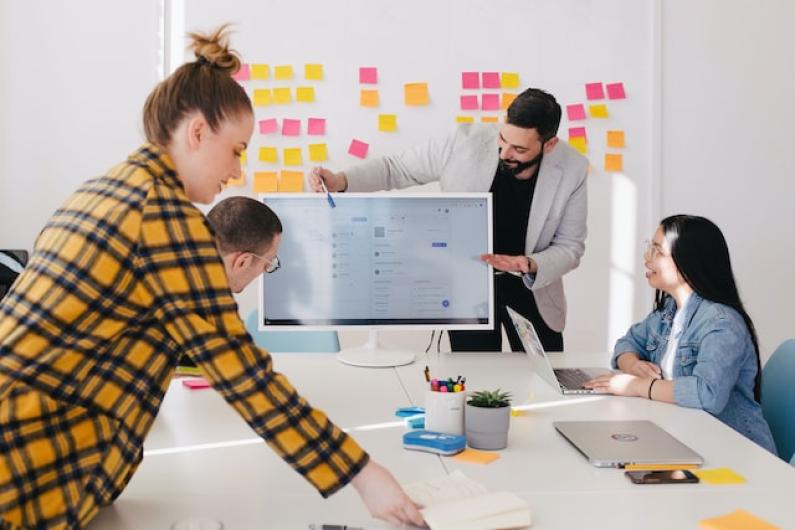 Specialized Business Translations
A presentation to a foreign client, an international conference, a webinar in a foreign language... Many situations require the translation of a PowerPoint presentation. Are you looking for the best way in which to translate a PowerPoint document? Here we provide an overview of the different methods available.
When should you translate a PowerPoint presentation?
Translating a PowerPoint document may be necessary in many situations, in a professional or academic context, for example:
Sharing a PowerPoint document with multicultural teams
Conducting a conference with slides in a foreign country
Conducting a webinar with slides to an international audience
Making a sales or marketing presentation to a foreign client
Defending a thesis before a jury in a foreign university
Presenting products to foreign customers.
Translating a PowerPoint document allows you to adapt the content of your presentation to the language of your audience, but also to the culture of the local market, to ensure that the audience understands it perfectly.
How do I translate a PowerPoint document?
There are three ways to translate a PowerPoint document:
Using the PowerPoint translation module
Microsoft PowerPoint has a built-in translation feature. This is a useful solution that allows you to translate your document in a few clicks and avoids the need to go back and forth between the presentation and an external machine translation tool. With Windows, this PowerPoint feature is available for free. With a Mac, you need an Office 365 (or Office 2019) subscription. This function allows slides to be translated into more than 60 languages: French, English, Italian, Mandarin, Greek, Portuguese, Arabic, Spanish, German, Russian etc.
There are two possible translation modes with the PowerPoint translator:
Translating text in PowerPoint
This option allows you to translate your PowerPoint presentation text directly into the language of your choice. To access this translation module, follow these steps:
Select the text to be translated in your slides
Go to the "Review" tab of your PowerPoint document
Click on "Translate" and then on "Translate selected text" (a side window will open on the presentation, with the list of available languages: choose your target language).
You can then either directly replace the original text with the translated text by clicking on "Insert" or copy and paste the translation (to another document for example), by clicking on "Copy".
This integrated translation module has the advantage of being extremely easy to use and can be accessed directly from the presentation.
Generate real-time subtitles in PowerPoint
Microsoft Translator also lets you translate a presentation simultaneously, using subtitles generated in the language of your choice. To activate this feature, go to the "Slideshow" tab and then "Subtitle Settings". Then, select the source language in "Spoken Language" and select the target language of your choice in "Subtitle Language". When the PowerPoint slides start, the translation will be displayed as subtitles. You can activate and deactivate them at any time during the presentation.
In addition, thanks to the PowerPoint Live feature, which lets listeners follow the presentation on their smartphone or tablet by scanning a QR code, each participant will be able to select subtitles in the language of their choice. To activate the feature, go to "Slideshow" and then to "Present Live". A QR code will be automatically generated at the beginning of the presentation, allowing participants to access the slides from their own screen and to select their preferred subtitle.
The captioning feature on PowerPoint is also very useful to help deaf and hard of hearing people follow your presentation.
Translating a PowerPoint document with automatic translation software
Another way of translating a PowerPoint document is to use an automatic translation tool (free or paid).
For example, with Google Translate you can translate a PowerPoint document for free. To do this, go to https://translate.google.com/ and click on the "Documents" tab and select your PowerPoint. Then click on "Translate Document". Your translation will be automatically generated in PowerPoint format. Alternatively, you can copy and paste the entire content and translate it using Google Translate's "Text" translation feature.
Be aware, however, that these automatic tools normally generate a literal, word-for-word translation that does not consider the nuances of language, context, cultural norms, tone, etc. The quality is far from optimal, and the translation is often not clear or precise.
Entrust your PowerPoint translation to a professional translator
Using a translator via a translation agency such as Optilingua ensures you receive a top-quality PowerPoint translation, both in terms of form and content.
A professional, native speaker translating into their mother tongue will not only faithfully transpose your presentation from one language to another but will also adapt cultural references and nuances to that of the destination country.
In addition, the professional translator will be able to adapt the layout of the translated PowerPoint document. Indeed, translated sentences can affect the layout of the document (from English to French for example, the sentences will be longer; from English to Arabic, the direction of the writing will change, etc.). The professional translator will take care when translating and formatting the PowerPoint content (visuals, titles, subtitles, headers, footers, diagrams, graphs, figures, tables, legends, etc.) to obtain a clear, aesthetically pleasing PowerPoint presentation that is faithful to the original.
By using a translation agency for your PowerPoint document you will benefit from the skills of a specialist translator with sectoral expertise in the relevant field of activity (marketing, sales, scientific, medical, legal, financial, etc.). You will be guaranteed a perfectly reliable, error-free PowerPoint translation that uses the appropriate technical terminology.
This way, you will maintain your company's reputation and professional image and your clients and stakeholders will receive a high-quality PowerPoint presentation in their native language.
and receive an answer within 24-48 hours
Choose the service you require
Get a quote
Confirm and receive your order
FAQ about PowerPoint translation
To translate an entire PowerPoint document, you can use the built-in translation module in Microsoft 365. Highlight the text or cell to be translated, click on 'Review', and then 'Translate'. Then select your chosen language and click 'Insert' (to replace the source text with the translation) or 'Copy' (to copy and paste the translation to a third-party location). You can also translate your PowerPoint document using Google Translate or another automatic translation tool.
To change the language of a PowerPoint presentation, click on the "Review" tab, then go to the "Languages" block to select your chosen language. There are about 60 languages available in Microsoft PowerPoint.
There are several ways to translate a complete document into English. First of all, you can use Google Translate and drop your attachment in the "Documents" tab of the application (Google Translate takes into account different document formats: .docx; pdf file; .pptx; .ppt; .xlsx ...). Another solution is to open or copy and paste your document into Google Docs, then click on "Tools" and then on "Translate document". You can also use other automatic translation software or use the services of a professional translator who is a native English speaker.