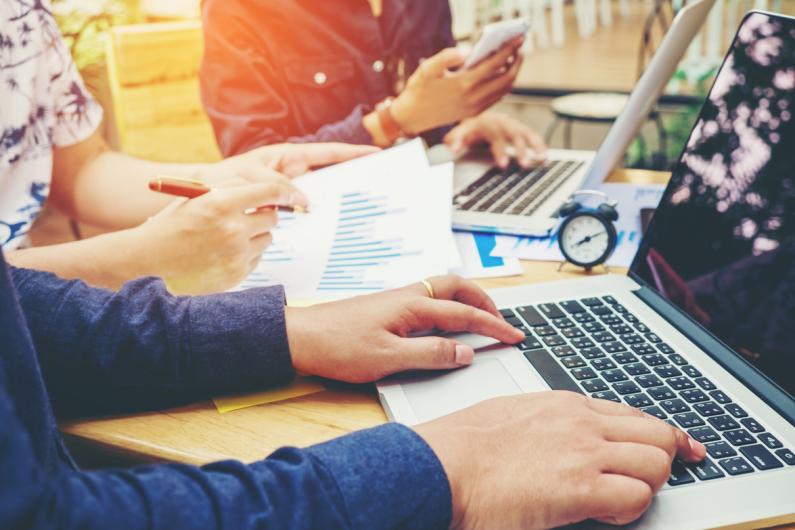 Specialized Business Translations
Do you want to translate an English text into Spanish reliably and qualitatively? We take a look at the different methods of translation from English to Spanish, their advantages and disadvantages, to obtain a good quality, usable result.
When do you need to translate a text from English into Spanish?
Spanish, the official language of 21 countries (Spain, Cuba, Equatorial Guinea, Argentina, Mexico, Peru, Venezuela, Colombia, etc.), was spoken by around 570 million people worldwide in 2016, according to the Anuario Cervantes. It is the 4th most spoken language in the world (after Chinese, English and Hindi).
Spanish is an essential language in any international business dealings, whatever the sector of activity concerned. Translating your content from English to Spanish is a real growth lever and can greatly boost the visibility of your brand with an international audience in Europe, The Caribbean, South America, etc.
Translating a text from English into Spanish may be necessary when you need to:
internationalise your offer, boost your digital visibility, reinforce your competitive advantage or establish your reputation
develop your brand with a Spanish-speaking audience
set up business in Spain, Argentina, Equatorial Guinea, Mexico or any other Spanish-speaking destination
facilitate exchanges with your multicultural teams, your associates or your Spanish-speaking partners
create a subsidiary, a production site or a representative office in a Spanish-speaking country
What are the challenges of English-Spanish translation?
As with any other language combinations, English-Spanish and Spanish-English translation brings a number of specific challenges.
Although these languages are not the most complex, they do have a number of differences that can make translation somewhat tricky for the English-Spanish translator.
In addition, for certain types of specialist texts (legal sector, agri-food sector, etc.), norms and standards vary from one country to another. You therefore may need to entrust the translation to a native speaker of the country where the final document is intended to be read.
What are the different methods of reliably translating a text from English to Spanish?
There are three main methods of translation from English to Spanish: machine translation, human translation and neural translation with post-editing. The price, quality, reliability and speed of the translation will vary greatly from one technique to another.
Machine translation from English to Spanish
Machine translation is the use of online translation software, without any human intervention. There are a wide range of machine translation tools available, both free and paid. These programs can translate all types of content into a wide range of languages in a matter of seconds.
These tools can use different machine translation methods: neural machine translation, statistical machine translation, rule-based translation, etc.
Google Translate is the best known and most widely used machine translation software and by far the most powerful free tool. It offers translations in a hundred languages, including English-Spanish machine translations, for content including translation of a PDF, a photo, a web page, or an audio file, etc.
In addition to Google English-Spanish Translation, you can use other machine translation software including DeepL, Reverso or Systran.
One of the main advantages of machine translation is that it is very affordable. In most cases, you can even do English-Spanish translations for free. It is also a very fast solution, allowing you to translate a long text in just a few seconds.
However, this method of translating your content from English into Spanish is also limited. Very often, the quality is random and shaky and the final result contains approximations, and major inconsistencies.
It is therefore not a suitable tool for English-Spanish translations that are intended for publication and where your brand's image may be at stake, as a poor translation could seriously damage your company's reputation. However, this method can be useful for personal use.
Human translation from English to Spanish
Human translation from English into Spanish is carried out by a professional translator who specialises in this language combination. They have a perfect command of both languages and of translation techniques.
They are also familiar with the culture and the specific language nuances of the destination country.
If you choose a trusted, qualified and experienced professional translator, you will get a 100% reliable English-Spanish translation that can be used directly by your Spanish-speaking audience. Of course the cost of a human translation is higher than that of a machine translation, but the quality is not comparable.
When choosing your professional English-Spanish translator, make sure you use a native speaker of Spanish (the target language). In addition, the translator should preferably be a native speaker of the destination country. This is essential to obtain a translation that takes into account the cultural particularities and linguistic specificities of the variant of Spanish concerned.
Finally, it is essential to use a professional translator who specialises in your field (legal, medical, financial, etc.) and who is familiar with the requirements, standards and terminology specific to your sector of activity.
At Alphatrad, we provide you with expert native English-Spanish translators from various Spanish-speaking countries, who specialise in a wide range of sectors. You will therefore benefit from a reliable English-Spanish translation, whatever the document including:
marketing translation (catalogues, flyers, brochures, leaflets, product sheets, etc.)
website translation
business translation (contracts, calls for tender, business plans, etc.)
scientific translation (patents, magazines etc.)
technical translation (user manuals, instructions, reports, etc.)
sworn translation of official documents (identity card, passport, criminal record checks, etc.)
financial translation (audit reports, risk analyses, annual reports, etc.)
legal translation (judgements, licences, statutes, etc.)
Neural English-Spanish translation with post-editing
The final method you could use for your translations from English into Spanish is neural machine translation with post-editing. More and more service providers are offering machine translation (usually neural) with post-editing (proofreading) by a professional human translator. This is an interesting alternative that is cost effective, reliable, relatively quick, and results in a high-quality translation.
and receive an answer within 24-48 hours
Choose the service you require
Get a quote
Confirm and receive your order
Answers to your questions about translating English text into Spanish
To get a free translation of a text from English to Spanish, you will need to use free machine translation software, such as Google Translate. However, beware of low-cost or free translation solutions as the translation is literal (word for word) and the quality is often very poor. For a 100% reliable English-Spanish translation, use a professional native speaker.
There are many tools on the market to automatically translate text into Spanish, regardless of the original language. The most effective automatic translation tools are Google Translate and DeepL. Other tools include Reverso and Linguee. Be aware, however, that a large number of texts are not suitable for automatic translation into Spanish. For legal, financial, medical, marketing and business translations; or any translation you intend to publish, use a professional native speaker.
The most reliable way to translate a long text from English into Spanish is to use a professional native speaker of Spanish. It is important to note that the longer the text, the higher the price. Some machine translation programs are also capable of translating long English texts, but the vast majority of translation programs have a limit of around 5,000 to 10,000 characters.